New Academy Research Fellows in social sciences and humanities receive funding by Academy of Finland
10 May 2023
The Academy of Finland's Research Council for Culture and Society today selected 50 talented early-career researchers to receive Academy Research Fellow funding.
Academy Research Fellowship funding is intended for early-career researchers on a fast career track who have formed international networks and who are conducting scientifically high-quality and high-impact research that contributes to scientific renewal. This was the first application round where funding was allocated based on the Academy's reform of the funding schemes available to early-career researchers. The funding awarded will enable the researchers to make significant progress towards the most demanding top research positions.
The Research Council's total funding for the new Academy Research Fellowships comes to 25.5 million euros. The funding is allocated to the applicant's research organisation, which manages the use of funding. The funding period is four years. On average, a single Academy Research Fellowship is worth around 510,000 euros. The Academy of Finland monitors the impact of Academy-funded research.
When making funding decisions, the Research Council for Culture and Society is keen to emphasise the diversity of fields, themes and methods to be funded, as well as the international collaborations and networking of researchers. The researchers funded in this round represent a wide range of disciplines in the social sciences and humanities.
The Research Council's most important funding criteria are the competence of the applicant and the scientific quality of the research plan. All of the new Academy Research Fellows received the highest ratings in the international peer review.
The Research Council's concerns that younger or more senior researchers would not do as well in the call did not materialise. The grantees include talented researchers from all research career stages.
Professor Petri Karonen, Chair of the Research Council, said: "We have witnessed another year where the overall standard of applications proved to be very high. The decisions were difficult, and we were forced to turn down several good applications, although the success rate did rise from 11 per cent to 15 per cent."
Under the new Academy Research Fellowship funding scheme, the Research Council could also provide funding for a research team, if it was necessary for the research.
Karonen added: "Many of the applicants had seized this opportunity, and there were many interesting combinations among the research plans."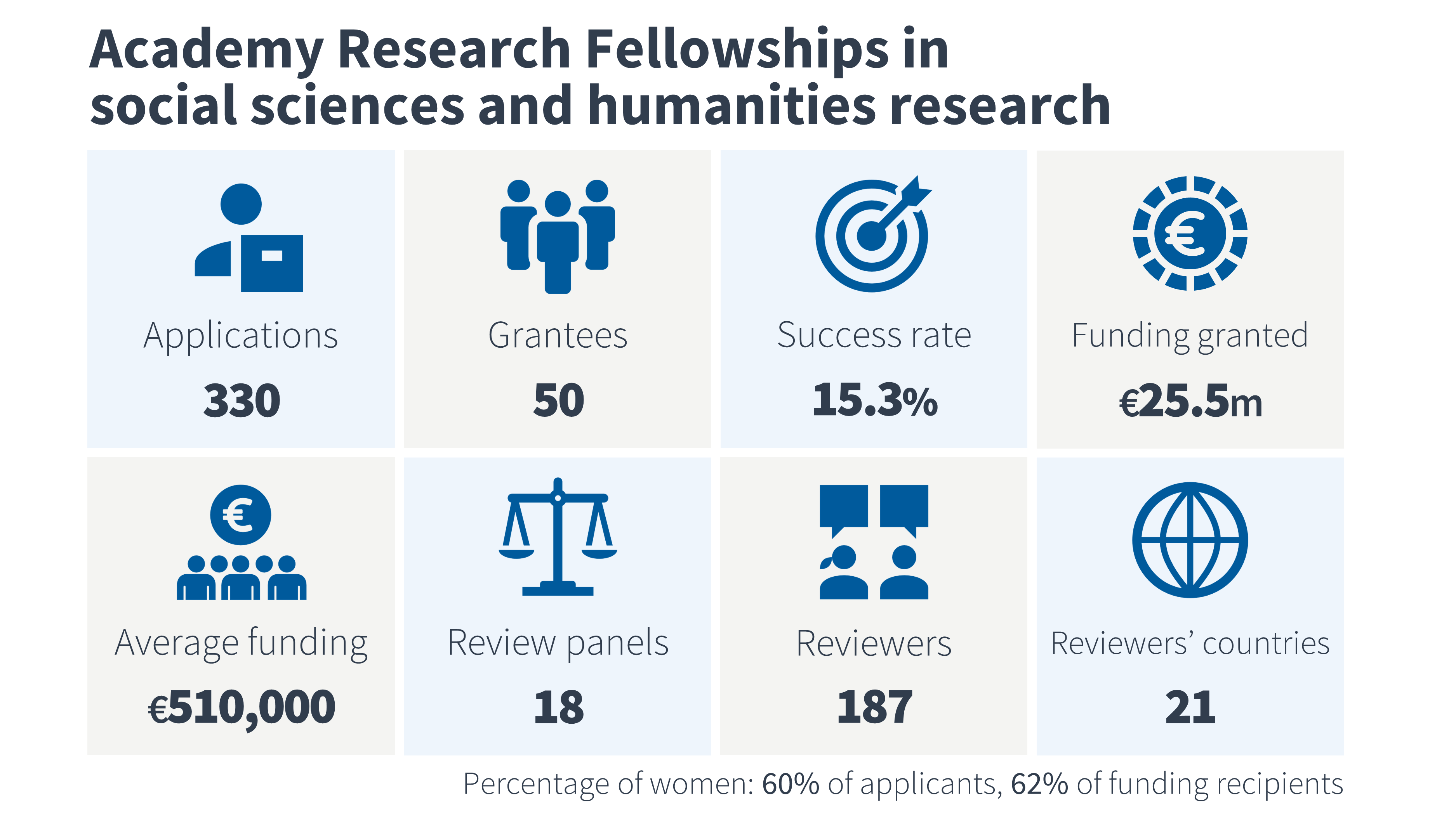 More information
Sampsa Kaataja, Science Adviser, tel. +358 295 335 167
Suvi Kansikas, Science Adviser, tel. +358 295 335 047
Sonja Kuosmanen, Science Adviser, tel. +358 295 335 025
Katja Marjanen, Science Adviser, tel. +358 295 335 079
Janne Niemi, Science Adviser, tel. +358 295 335 014
Siru Oksa, Senior Science Adviser, tel. +358 295 335 125
Our email addresses are in the format firstname.lastname(at)aka.fi.
The Research Council for Culture and Society will organise a feedback session on the autumn call on 14 June 2023 at 12.00–14.00 via Microsoft Teams. Applicants will receive an invitation to the session by email.
Academy of Finland Communications
Pekka Rautio, Communications Specialist
tel. +358 295 335 040
firstname.lastname(at)aka.fi