Academy of Finland grants funding for 59 new Academy Research Fellowships in natural sciences and engineering
16 May 2023
The Academy of Finland's Research Council for Natural Sciences and Engineering has selected 59 researchers to receive Academy Research Fellowship funding. The funding totals about 35 million euros. The applicant success rate was just over 15 per cent.
Academy Research Fellowship funding is intended for early-career researchers on a fast career track who have formed international networks and who are conducting scientifically high-quality and high-impact research that contributes to scientific renewal. This was the first application round where funding was allocated based on the Academy's reform of the funding schemes available to early-career researchers. The total sum applied for by Academy Research Fellow candidates in natural sciences and engineering was nearly 220 million euros.
The funding is allocated to the applicant's research organisation, which manages the use of funding. The funding can be used flexibly according to the research needs, for example for the researcher's own salary, to hire a research team and to cover other research costs. The funding period is four years. On average, a single Academy Research Fellowship is worth around 590,000 euros. The Academy of Finland monitors the impact of Academy-funded research.
The Research Council for Natural Sciences and Engineering supports a wide range of disciplines in its domain. Finnish research environments have international appeal, especially in ICT and engineering. In fact, 70 per cent of the Academy Research Fellowship applications in these fields came from foreign applicants. Among the applications in the field of engineering, health technology was an emerging research topic. In the natural sciences, a number of fundamental research projects were funded. In addition, the Research Council allocated funding to a number of projects that will have an impact on future energy solutions.
According to Professor Leena Ukkonen, Chair of the Research Council, a worryingly low number of applications were submitted in the fields of process, environmental, chemical and mechanical engineering and manufacturing technology: "The Research Council is concerned about safeguarding an adequate supply of competence in these sectors, which are important to the Finnish economy."
"Initially, we were also concerned about how applicants of a younger academic age would fare in the competition. However, they succeeded very well in the international peer review, and those selected for funding include researchers at different stages of their careers, from recent PhDs to assistant/associate professors. Almost all of them already have a track record of solid international or intersectoral mobility and excellent cooperation networks," Ukkonen said.
The applications were peer-reviewed by panels of international experts. The reviewers gave an excellent rating (6 or 5) to 46 per cent of the applications. The selections were based on the personal competence of the applicants, taking into account their career stages. Emphasis was also placed on the scientific quality of the research.
Ukkonen added: "Compared to previous years, in this round the Research Council was able to fund talented researchers with ambitious research projects from a wider range of disciplines.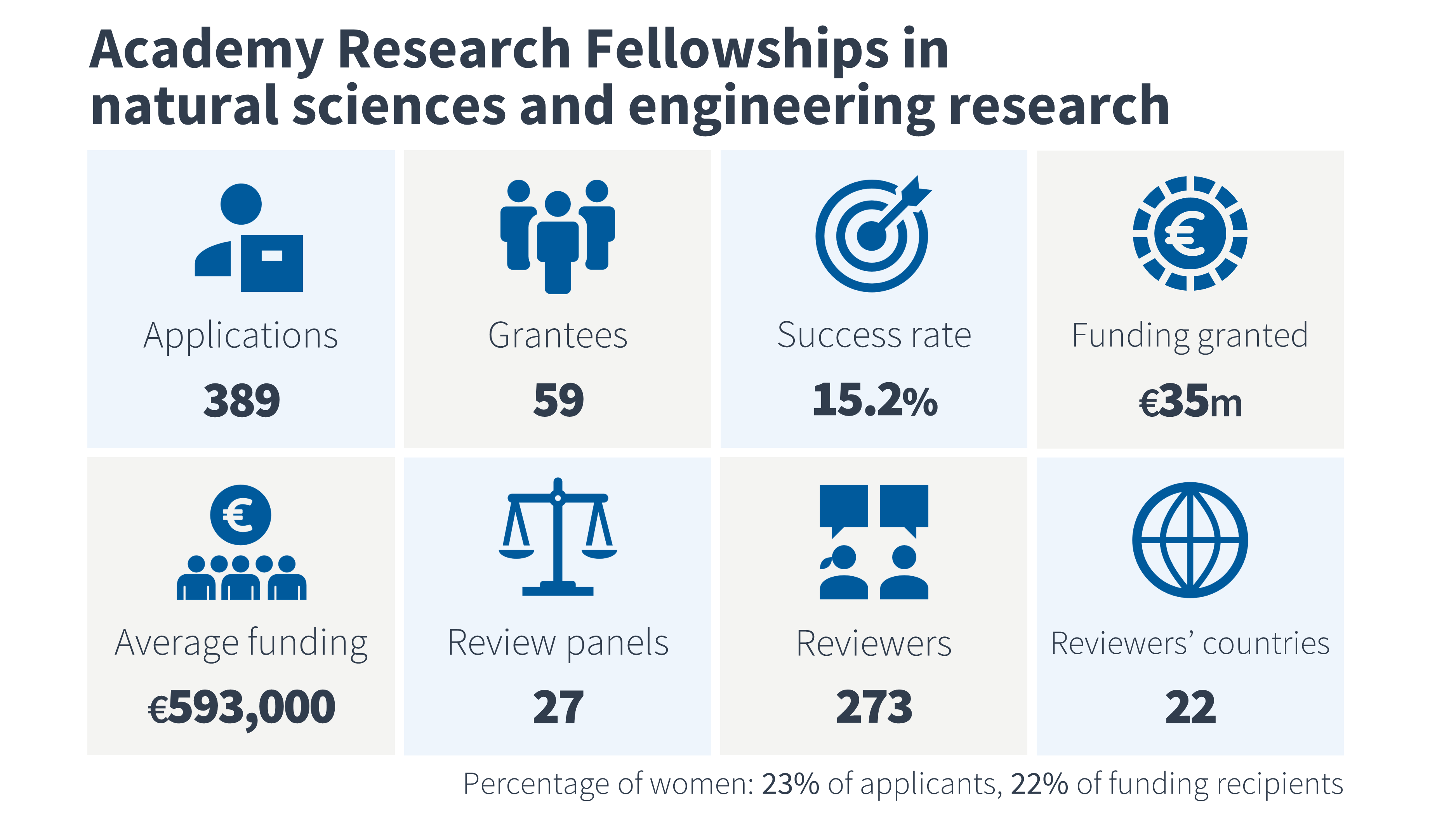 Inquiries and more information
Anna Kalliomäki, Senior Science Adviser, tel. +358 295 335 035
Soile Kukkonen, Science Adviser, tel. +358 295 335 037
Maaria Lehtinen, Senior Science Adviser, tel. +358 295 335 061
Hanna Pikkarainen, Science Adviser, tel. +358 295 335 155
Minna Räisänen, Science Adviser, tel. +358 295 335 072
Kati Sulonen, Senior Science Adviser, tel. +358 295 335 110
Our email addresses are in the format firstname.lastname(at)aka.fi.
Academy of Finland Communications
Vesa Varpula, Communications Specialist
tel. +358 295 335 131
firstname.lastname(at)aka.fi