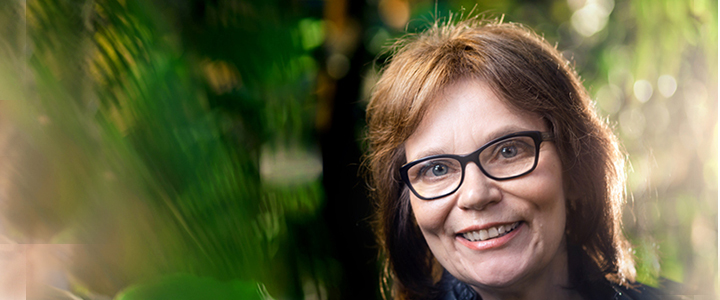 Academician of Science Eva-Mari Aro
Academy Professor Eva-Mari Aro (b. 1950) has been Professor of Plant Physiology at the University of Turku since 1998. Aro's area of specialty is plant molecular biology. She has introduced a whole new area of strength of photosynthesis research into the Finnish scientific landscape. At the same time, her laboratory has grown into one of the world's premier centres of photosynthesis research.
In recent years, Aro and her team have focused their efforts on studying how photosynthesis can be harnessed to produce compounds beneficial to humankind following the principles of sustainable development. Aro's research applies methods of synthetic biology to the efficient production of chemicals and energy using photosynthetic organisms, mainly cyanobacteria.
Rather than harnessing cyanobacteria for the production of biomass – the conventional route in bioenergy-related studies on algae – Aro works to develop "living factories", cells that can convert solar energy into fuels and useful chemicals. It is hoped that research in this area could provide a breakthrough that would contribute to fully replacing the fossil fuels.
Aro has received several international distinctions and awards and she holds numerous positions of trust both in Finland and abroad. In addition to being actively involved in many scientific and science policy networks at EU level, she serves on several selection committees for major international science prizes. At present, Aro is Vice-President at the Bureau of the European Academies' Science Advisory Council (EASAC). The Council provides independent scientific advice to European policy-makers under three programmes: Energy, Environment and Biosciences.
The Finnish Union of University Professors selected Aro as Professor of the Year in 2013.