New Academy Projects in biosciences, health and environmental research emphasise high quality of science
30 May 2022
The Academy of Finland's Research Council for Biosciences, Health and the Environment today granted funding for 70 new Academy Projects, which include a total of 92 subprojects. The funding totals around 38 million euros and the success rate was about 17 per cent.
Academy Project Funding is granted for internationally top-tier scientific research that is aimed at possible scientific breakthroughs and involves cooperation with the cutting-edge international groups. Academy Project Funding is intended for hiring a research team and for other research costs. The funding is granted to a Finnish university or research organisation that manages the use of funding on behalf of the Academy Project.
The most important funding criterion for the Research Council for Biosciences, Health and the Environment was the high scientific quality of research. The focus was also on multidisciplinarity and the research teams' high-quality and multidisciplinary cooperation and impact. All funded applications received a rating of 5 or 6 in the scientific review.
Professor Jussi Kukkonen, Chair of the Research Council, said: "The Research Council provided extensive funding for projects in various fields of research in biosciences, health and the environment, and several multidisciplinary projects and consortia were funded this year. We need multidisciplinary research and collaboration in the search for solutions to complex global problems. The scientific and societal impact of research carried out in these projects is gaining in significance."
The Research Council for Biosciences, Health and the Environment funded a wide range of Academy Projects. Examples of funded projects:
Iryna Herzon (University of Helsinki) and Minna Kaljonen (Finnish Environment Institute) head a research project that aims to find a sustainable niche for farmed animals in Finnish food production and diets. The production and consumption of meat, milk and other products from farmed animals has become a subject of heated and politicised debate. From the viewpoint of the carrying capacity of the environment, human health and animal welfare, the role of livestock in food systems presents a sustainability challenge. Farmed animals can optimally deliver multiple benefits, such as recycling nutrients in the farming environment and maintaining biodiversity. The research project asks how we can rediscover the multifaceted value of livestock on farms, on our lands and on our plates. How can we transition to sustainable livestock production and consumption?
Ali Mobasheri (University of Oulu) heads a research project that will study possible treatments for intervertebral disc (IVD) degeneration. IVD degeneration is one of the major causes of lower back pain. IVD degeneration occurs when the flexible and rubbery discs in the spine wear down and eventually collapse. There are currently no effective treatments for chronic lower back pain; early treatment includes painkillers. Mobasheri's project will test new treatments on a large animal model of IVD degeneration in order to develop a good combination therapy that mixes different drugs and tests new stem cell therapies that can potentially reduce pain and stop or least slow down IVD degeneration and ease the pain. If successful, the project will enable the use of tissue-regenerating therapies in a completely new area for the treatment of patients with back pain.
Sylvain Tollis (University of Eastern Finland) heads a project investigating cell growth and division. Cell sizes span from metre-long neurons to tiny lymphocytes. However, size is remarkably uniform within a given cell population. Tollis' research project examines the long-standing question of how evolution shaped control mechanisms to adjust the size of each cell to its function and environment. The researchers will use a unique combination of state-of-the-art quantitative imaging and genetics to identify and measure the key parameters that coordinate cell growth and division. The results of the project will advance a major frontier in health-related knowledge and help understand disease-associated mutations in cancer and other genetic disorders.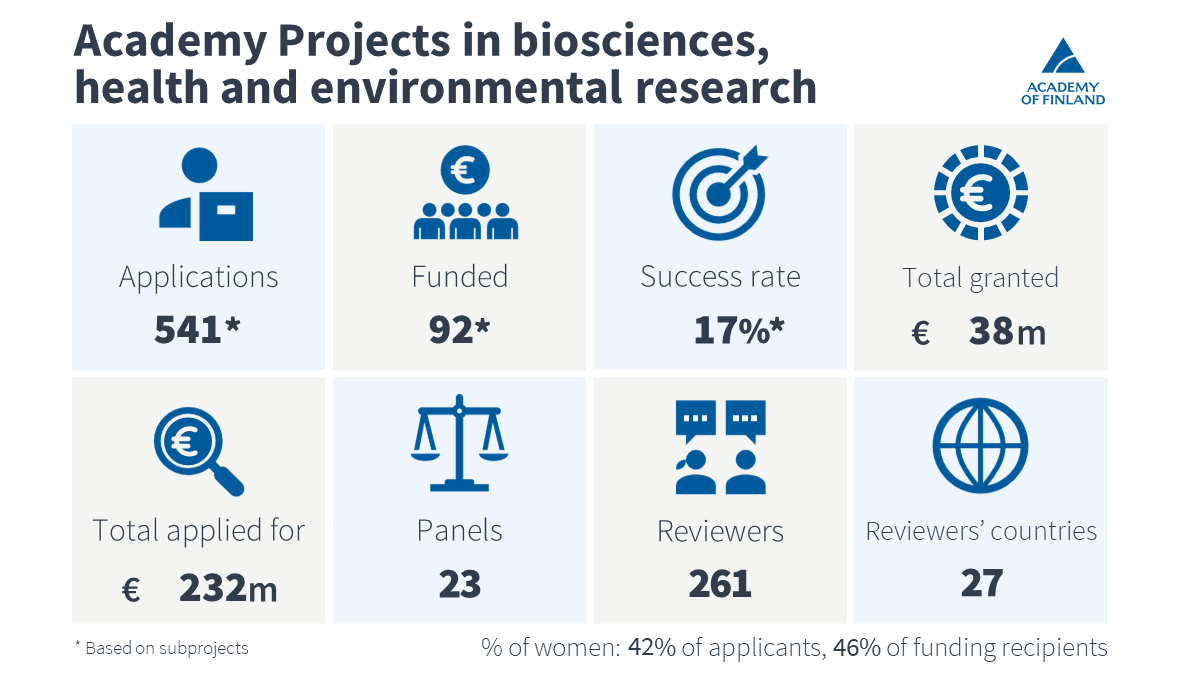 Inquiries and more information
Suvi Broholm, Science Adviser, tel. +358 295 335 045
Anni Kleino, Science Adviser, tel. +358 295 335 161
Jaana Lehtimäki, Senior Science Adviser, tel. +358 295 335 060
Sirpa Nuotio, Senior Science Adviser, tel. +358 295 335 082
Annika Raitala, Senior Science Adviser, tel. +358 295 335 097
Aki Salo, Senior Science Adviser, tel. +358 295 335 104
Timo Sareneva, Science Adviser, tel. +358 295 335 106
Anne Uutela, Science Adviser, tel. +358 295 335 107
Our email addresses are in the format firstname.lastname(at)aka.fi.
Academy of Finland Communications
Pekka Rautio, Communications Specialist
tel. +358 295 335 040
firstname.lastname(at)aka.fi