Strategic research themes
The Strategic Research Council's (SRC) funding programmes are based on changing themes. Proposals on new themes are formulated annually through an interactive theme process. At the end of the process, the SRC submits a proposal to the Finnish Government on the next themes and priorities of strategic research. Through its decision on the themes, the Government steers high-quality and long-term research into solving major societal challenges.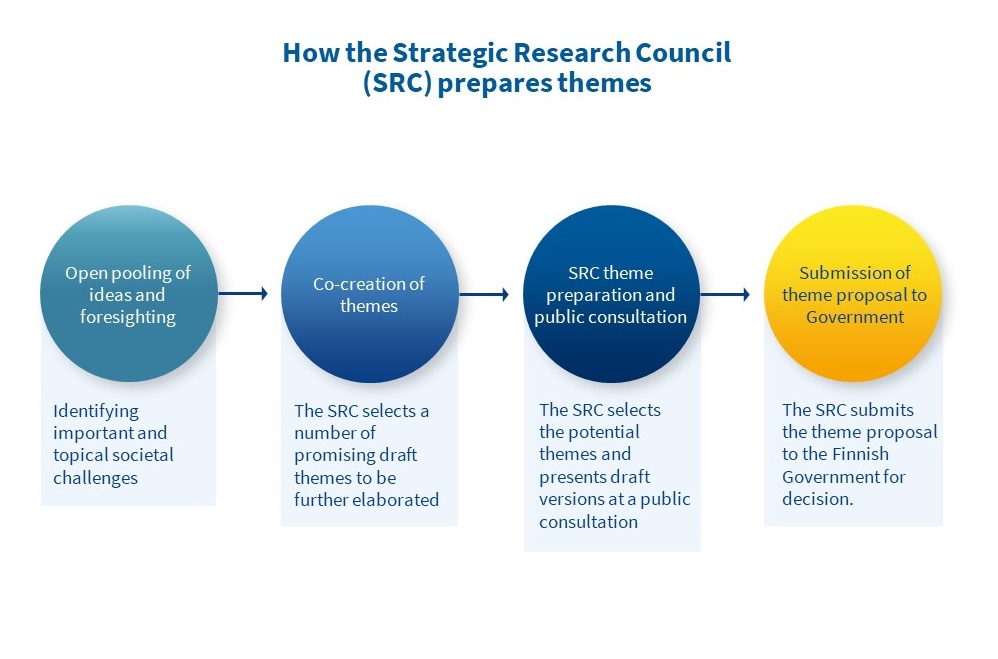 The preparation of the theme proposal focuses proactively on major societal challenges and major changes in a long-term perspective. The interactive process in support of the SRC's theme preparation to chart societal challenges consists, among other things, of an open online survey, theme workshops and an open consultation where the scientific community and knowledge users can discuss the proposed themes. At the end of the process, the SRC submits a proposal to the Government on next year's themes and priorities. The SRC opens the research programmes for the following year and the related calls for applications based on the Government's decision.
The premise for the SRC is to sift out the following types of themes:
themes that are key challenges for the future of Finland
themes that are sufficiently horizontal
themes that extensively affect different sectors of society
themes that are sufficiently distinct from each other
themes that require new knowledge produced by multidisciplinary research.
Current theme preparation
SRC's preparation of strategic research themes for 2024
Open online survey 11 Oct – 3 Nov 2022, read the news release
Theme workshop for stakeholders, February 2023
Public consultation, 30 May 2023
SRC's preparation of strategic research themes for 2023
Open online survey 27 Oct–11 Nov 2021, read the news release
Theme workshop for stakeholders, February 2022
Public consultation, 30 May 2022, read more
SRC decision on theme proposal and submission to the Government, 14 June 2022, read press release
Government decision on themes 6 October 2022
The strategic research themes previously decided by the Finnish Government are as follows.
Themes for 2022
Children and young people – healthy, thriving and capable makers of the future
Security and trust in the age of algorithms
Themes for 2021
Demographic changes – causes, consequences and solutions
Environmental and social links to biodiversity loss
Pandemics as a challenge for society
Themes for 2020
Dealing with Climate Change – the Human Perspective
Information Literacy and Evidence Informed Decision-Making
Themes for 2019
Towards a Sustainable, Healthy and Climate-Neutral Food System
Innovative Materials and Services to Promote Resource Wisdom and Sustainable Development
The Evolving Role of Public Authority and the Potential for Steering Society
Culture in an Increasingly Technologically Driven Society
Government press release (in Finnish)
Themes for 2017 and 2018
Changing Citizenship – Society in a State of Global Flux (2017)
Reform or Wither– Resources and Solutions (2018)
Themes for 2016
Knowledge, Know-How and the Changing Working Life
Health and the Changing of Lifestyles
Overall Security in a Global Environment
Dynamics of Urbanisation
Government Decision (in Finnish)
Themes for 2015
Utilisation of Disruptive Technologies and Changing Institutions
A Climate-Neutral and Resource-Scarce Society
Equality and Its Promotion
More information
Pilvi Toppinen, Senior Science Adviser, tel. +358 295 335 064
Our email addresses are in the format firstname.lastname(at)aka.fi.​