'Just green transition' proposed as theme for strategic research – join the public consultation
17 May 2022
The Strategic Research Council (SRC) will present a draft theme for its next research programmes at a public consultation on Monday 30 May at 13.00–14.15. This year, the SRC has prepared a single theme, with the title just green transition. The draft cross-cutting priority is resilience.
The Strategic Research Council (SRC) funds high-quality research that has great societal impact and that seeks solutions to major societal challenges. The SRC's funding programmes are based on changing themes. A key task of the SRC is to annually prepare a proposal for the Finnish Government on the next strategic research themes. The theme for the 2023 SRC programmes is now being prepared.
Register for public consultation
The draft theme will be presented at a public consultation on Monday 30 May at 13.00, where it will be possible to comment on the draft before the SRC finalises it and submits it to the Government in June.
SRC Chair Anu Kaukovirta said: "We've received valuable support and assistance from stakeholders throughout the theme preparation process. The new Council, which began its work in January, is looking forward to the public consultation and to feedback on this first theme initiative, which has been prepared in an exceptionally volatile global political situation. The circumstances have also affected the content of the theme itself."
At the online public consultation, members of the scientific community, research knowledge users and other interested parties can discuss the proposed theme with representatives of the SRC. Registration is open until Friday 27 May. More details on the event and the instructions for participation will be published on the SRC website before the event and sent to registered participants.
One theme, two research programmes
An essential part of the theme preparation is to identify topical societal challenges that are significant in scale and of such quality that their resolution requires a multidisciplinary and interactive approach to research and a long time span enabled by six-year programmes. The theme preparation is supported by an interactive process, which enables a wide range of perspectives to be included from different disciplines as well as from other sectors of society.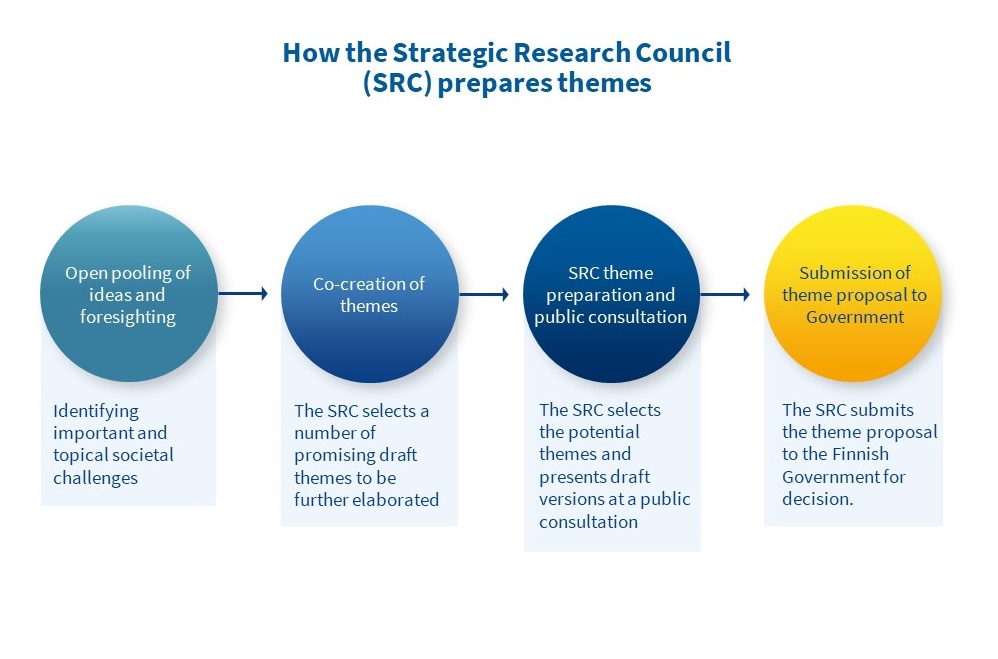 During the preparation process, the SRC faced a threat of cuts to its budget authority, but the cuts were cancelled in the Government Fiscal Plan published in early April. Kaukovirta says that the situation affected the theme preparation so that the SRC decided at a relatively early stage to prepare a single theme.
"The idea was that we would launch two programmes from a single theme, which is fortunately now possible since the cuts were cancelled. As in previous years, the preparation itself was a multi-stage process in order to gain input from various stakeholders along the way."
Kaukovirta added: "The most important stages of the process were a stakeholder workshop held in February where pre-prioritised, potential themes were assessed and jointly developed with representatives of universities, research institutes and ministries. We also encourage our stakeholders to participate actively in the upcoming consultation."
Inquiries and more information
Anu Kaukovirta, SRC Chair, tel. +358 40 525 7492, firstname.lastname(at)luke.fi
Pilvi Toppinen, Senior Science Adviser, Division of Strategic Research, Academy of Finland, tel. +358 295 335 064, firstname.lastname(at)aka.fi
Questions about registration: strateginentutkimus(at)aka.fi