Energy consumption and everyday life
7.7.2016
13.6.2016 Andrea Vianello, EVIDENCE Project
Electricity is an important component of our everyday life. We use it for warming and lighting up our houses, operating domestic appliances, such as fridges or washing machines, and making more comfortable our leisure time.
Unfortunately, the resources of our planet are not infinite, i.e. most of the produced electricity still comes from carbon-based fuel. This makes it difficult to satisfy people's increasing demands and at the same time contrast the atmospheric pollution produced by these natural sources.
For such reasons, in the last decades researchers and the energy industries have focused on how to reduce energy consumption in the household, e.g. by introducing electricity meters and smart devices that empower people to monitor and possibly better operate their home appliances.
However, although these strategies have shown to provide reductions in electricity consumption, they appear to target a specific smart consumer or user, i.e. "one who is interested, immersed, and engaged in managing his energy demand, and willing and able to embrace new smart technologies and strategies to achieve energy-management goals" (Strengers, 2014). Yolande Strengers calls this ideal user "Resource Man", who, according to her, represents the energy industry's "resource bias" projected onto energy consumers. He is able to understand consumption data such as costs, kilowatt hours, and its impacts, as well as make decision based on this data. He is also interested in comparing his energy data with other resource men.
It is not difficult to realize that this view is too far from what people actually do in their houses.
In particular, it overlooks the daily domestic and social routines in which electricity consumption is implicated, which involve cooking, cleaning the body, clothes, and the home, and making spaces and people comfortable.
Among the possible solutions proposed by Strengers, our work is in line with two of them, i.e. (i) supporting those householders' (intersecting) domestic activities, which she calls the mess, that constitutes the majority of energy demand, and (ii) designing for all household members, e.g. teenagers who might not be interested in the energy bill but that participate in many practices that result in energy consumption, and also pets who are very good in finding cool and warm places inside the home.
Indeed, in the first step of our research we developed a do-it-yourself toolkit that aims at supporting people's everyday activities in the household, i.e. those that constitute the mess. The system, called T4Tags 2.0, consists of physical tokens that embed different sensing technologies, such as Bluetooth, temperature, light, and motion sensors, and offer smart technologies such as wall plugs and light bulbs (see the picture below). The tokens can easily be programmed by people with an "if this then that" style. For example, through a mobile visual interface they can quickly create smart behaviors like "if the light is dim in the living room, switch on the light bulbs". Moreover, the small and convenient size of the tokens allows users to attach them to physical static or movable objects inside and outside the home, as well as place them on the key chain, for being always carried by users, or on the collar of pets, for monitoring their movements. Finally, T4Tags 2.0 offers a sharing platform where users can share their programs and take into use those created by others.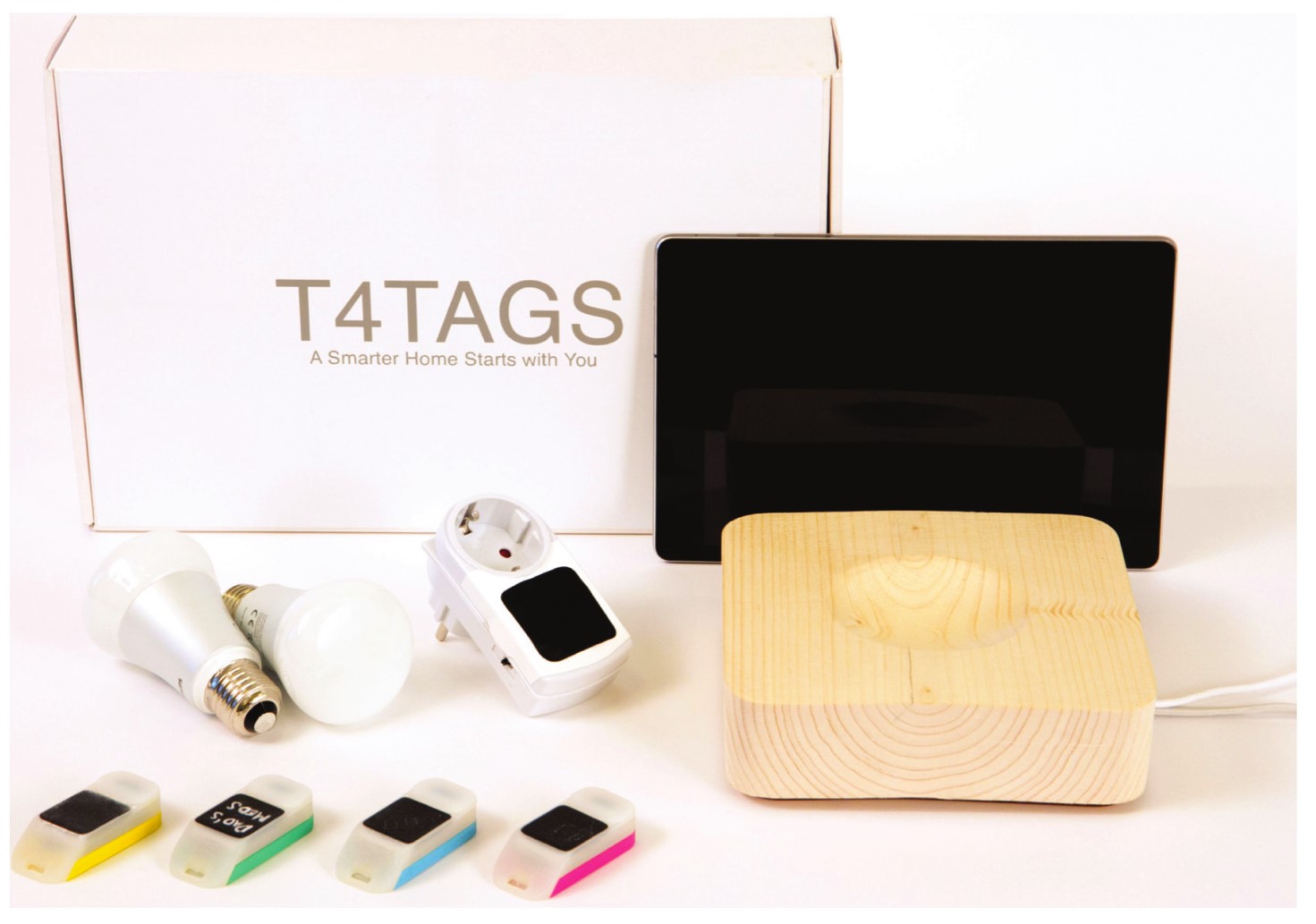 Components of the T4Tags 2.0 toolkit: The smart power plugs, smart light bulbs, sensing tokens, and the wireless station that together with the tablet allows to program the tokens' behavior (picture taken from Bellucci, Vianello, Florack, & Jacucci, 2016).
To investigate its usefulness and improve the design of our toolkit, we carried four field studies with four different families, i.e. three one-day workshops (Bellucci, Vianello, Florack, & Jacucci, 2016; Vianello, Florack, Bellucci, & Jacucci, 2016), and one-month co-design study with four sessions (once per week) (Bellucci, Vianello, Florack, Micallef, & Jacucci, 2016). Results revealed insights on the general usefulness of the system, including easiness of use by different household members, and of the sharing platform. Moreover, they allowed us to analyze the different household routines that happen in people's everyday life from different perspectives.
With such results in mind, and a better understating of users' everyday activities, the next step of our research is to integrate and monitor energy into people's household routines, by making it part of our toolkit. We are currently working on this direction and… we give you appointment on this blog for the next year.
References: Bellucci, A., Vianello, A., Florack, Y., & Jacucci, G. (2016). Supporting the serendipitous use of domestic technologies. IEEE Pervasive Computing, 15(2), 16–25. Bellucci, A., Vianello, A., Florack, Y., Micallef, L., & Jacucci, G. (2016). Programming the home: A design journey into the diversity of domestic activities. Manuscript submitted to journal. Strengers, Y. (2014). Smart energy in everyday life: Are you designing for resource man? interactions, 21(4), 24–31. Vianello, A., Florack, Y., Bellucci, A., & Jacucci, G. (2016). T4Tags 2.0: A tangible system for supporting users' needs in the domestic environment. In Proceedings of the TEI'16: Tenth International Conference on Tangible, Embedded, and Embodied Interaction (pp. 38–43). ACM Press.