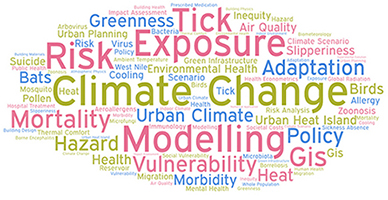 Climate Change and Health Seminar on 13 January 2021
21 Feb 2020
The opening seminar of Climate Change and Health (CLIHE) -Academy Programme is held on 13 January 2021.

This seminar is targeted to researchers, end users, decision makers, and other stakeholders.

Keynote speeches are given by Professor Markku Ollikainen (University of Helsinki) and Professor Rainer Sauerborn (University of Heidelberg).
The seminar is free of charge and open to all interested parties. Registration will be opened later at www.academyevents.fi.
The researchers of the programme will continue the seminar on 14 January.
The seminar is moderated by Journalist Pasi Toiviainen.
12.30 - 12.35
Opening words
12.35 - 12.50
Scene setting: Climate change – links to Human Health
Professor Markku Ollikainen, University of Helsinki
12.50 - 13.30
Keynote: Climate Change and Health - What are the Issues?
Professor Rainer Sauerborn, University of Heidelberg, Germany
13.30 - 14.30
Panel discussion: How to Prepare for the Impact of Climate Change on Health?
Panel members: Research Professor Elina Hemminki, National Institute of Health and Welfare; Professor Sirkku Juhola, University of Helsinki; Professor Timo Lanki, University of Eastern Finland; NN to be confirmed.
14.30 - 14.50
Coffee
14.50 - 15.00
Introduction of CLIHE Academy Programme
Professor Jussi Kukkonen, University of Eastern Finland (Chair of CLIHE Steering Group)
15.00 - 16.00
Introduction of CLIHE Projects, moderated poster session