Nephropathia epidemica is a type of haemorrhagic fever
17 Aug 2018
Nephropathia epidemica (NE) predisposes to haemorrhaging as it increases the permeability of blood vessels. Tomas Strandin is researching how the Puumala virus, which causes the disease, induces the reaction. The results may also help develop treatment for more serious types of haemorrhagic fever and even help beat Ebola.
The Puumala virus transmitted by bank voles (Myodes glareolus) is a hantavirus. Hantaviruses induce haemorrhagic fever with renal syndrome, such as severe HFRS, in Europe and Asia. Nephropathia epidemica (NE or epidemic nephropathy) is a mild type of HFRS in which haemorrhaging is rare.
"Approximately 10 per cent of NE patients show clinical symptoms of haemorrhaging. These symptoms are usually mild, such as nosebleed or obscured field of vision as haemorrhaging in the vascular system of the eye causes blurry vision," says Tomas Strandin, PhD.
Sometimes, limited internal haemorrhage also occurs, which can be detected in the excrement. In extremely rare cases, NE can cause fatal haemorrhaging.
"If the permeability of blood vessels is high enough, the bloodstream in the body slows down due to haemorrhaging. The blood pressure may collapse, and the patient goes into shock. In the worst case, the lack of oxygen in the tissues leads to the death of the patient."
Mortality from NE is 0.1 per cent. If the patient dies, haemorrhaging is most likely involved. The risk factors for severe haemorrhagic symptoms are not known.
"Such symptoms can also be found in primarily healthy NE patients not found to have a low immunity or a weak constitution."
The virus triggers an anticoagulation reaction
The haemorrhage is caused by increased vascular permeability.
"The Puumala virus targets the endothelial cells of blood vessel walls, which results in changes in blood vessels systematically in the whole body."
The increased permeability is evidently caused by an immunological reaction against the virus, not by the virus itself. It is known that the blood coagulation system in patients is disturbed and the platelet count decreases. In his research, Strandin looks for factors that lead to this.
"If we infect isolated human endothelial cells, the level of tPA protein increases in these cells. The task of the tissue plasminogen activator (tPA) is to breakdown blood clots. We detected this same phenomenon in NE patients. The patients with haemorrhage also had elevated tPA levels."
Strandin has concluded that the virus triggers an anticoagulation reaction that reduces the possibilities of the patient to prevent excessive vascular permeability through coagulation.
Further research in collaboration with South American researchers also provided new information on HCPS, which occurs on the American continent. Hantavirus cardiopulmonary syndrome (HCPS) is a disease caused by hantaviruses that is even more serious than HFRS and can have a mortality rate as high as 50 per cent.
"In the case of HCPS, the level of tPA's physiological inhibitor, PAI-1, is also increased. PAI-1 is also involved in the coagulation system of the body as it strengthens the coagulation reaction. High PAI-1 levels correlate with mortality in HCPS. This means that the blood coagulation system is regulated in different ways in HFRS than in HCPS."
The results open up new opportunities to identify patients at highest risk and develop drugs affecting the blood coagulation system that in the best case prevent haemorrhage. However, this requires more profound research.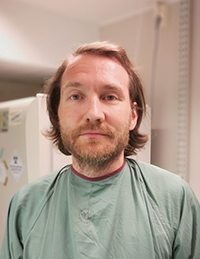 Tomas Strandin is one of the few NE researchers in Finland. He clothes himself carefully for working in the lab. In the photo, his clothing and equipment still lacks respiratory protective equipment.
New directions through researcher exchange
Tomas Strandin became interested in the Puumala virus during his studies. He wrote his doctoral thesis on its molecular biology and protein structure at the University of Helsinki Faculty of Medicine in 2012.
"It's an interesting virus: its molecular structure is simple, yet it causes a complex, serious disease. In addition, it's a zoonosis, a disease transmitted to people from animals. Zoonoses are rare here in Finland. The virus has only one reservoir host, the bank vole."
There are many cases of NE in Finland, some 1,000–3,000 cases annually, with the highest number of cases in Eastern Finland. Compared with the annual number of cases of tick-borne encephalitis (TBE), less than one hundred, NE is considerably more common. There is no vaccine or curative treatment for NE, and recovery may be slow.
"Due to the Puumala virus, Finland ranks high in the number of hantavirus infections in Europe. All cases are documented carefully and a high number of samples is taken. This is why we're well positioned to examine the disease and also accumulate information on hantaviruses."
Strandin has studied the vascular pathology of the Puumala virus for seven years now. In 2014, he received three-year funding for postdoctoral research from the Academy of Finland, which sped up his work considerably. Now he continues as a postdoctoral researcher in the research group for zoonotic viruses at the Faculty of Medicine at Helsinki.
Last spring, researcher exchange took him to Karolinska Institutet in Stockholm, Sweden.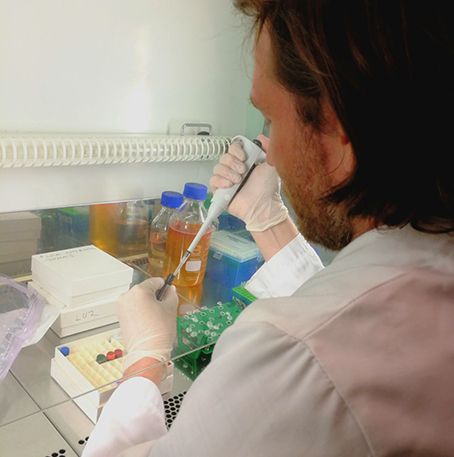 "In NE research, we use samples collected from patients," says Tomas Strandin.
"In Finland, I'm one of the few NE researchers in the country. Therefore, it's been interesting to work as part of a large research group. I hope that the importance of research will also be realised in Finland. My Swedish colleagues have strong knowledge of immunology and access to new technology, such as advanced flow cytometry, which can be used to measure leucocyte activation levels accurately in blood samples."
He intends to bring this knowledge to Finland: "Too strong an immunological reaction of the body is one of the most severe forms of disease. Restricting it may also be the key to the treatment of seriously ill patients. An interesting factor are mononuclear phagocytes, the activation of which I had the opportunity to monitor with my Swedish colleagues."
Respiratory protective equipment prevents infection
According to Strandin, the results of the Puumala virus research can be used to model various types of haemorrhagic fever.
"The Ebola virus, too, causes increased vascular permeability. However, it's difficult to research due to its dangerous nature. Its biosafety level is IV, the highest."
As for the Puumala virus, the biosafety level specified for laboratories in Finland is III. Biosafety level III laboratories can only be accessed by personnel who have completed special safety training. All clothing is changed upon entering and exiting, the equipment includes respiratory protective equipment, and personnel must take a shower upon exiting.
Strandin says that he sometimes thinks about his own safety. However, he does not stress over it.
"We use cell cultures to analyse the effects of the Puumala virus on endothelial cells isolated from blood vessel walls. In addition, we examine samples collected from NE patients that we receive from Tampere University Hospital with the assistance of emeritus professors Antti Vaheri and Jukka Mustonen and Docent Satu Mäkelä."
NE has never been transmitted in a laboratory. In other European countries, the biosafety level specified for laboratories handling hantaviruses is II. This level is also being considered in Finland.
"The risk of infection is completely different in the case of bank vole researchers, who are in direct contact with moles. Almost all of them contract NE as it is transmitted by air. One of them has died of the disease in Finland."
Text by Ulla Willberg
Photos by Tomas Strandin and Pond5.com
Last modified 17 Aug 2018