Showcasing Finnish water service expertise
31 Aug 2017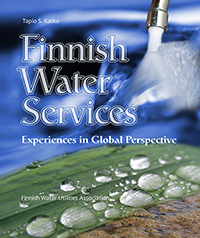 Tap water is drinkable anywhere in Finland, the quality of Finnish raw water is ranked among the very best in Europe and more than 80 per cent of the Finnish population have access to public sewerage systems that are all connected to wastewater treatment plants. The development of Finnish water services is indeed a success story that receives too little attention. Finnish Water Services – Experiences in Global Perspective, a recently published book by UNESCO Chairholder Tapio S. Katko, is a response to international audiences who wish to learn from Finland's experiences. It provides an encompassing and detailed overview of Finnish water services, their history, management and governance.
Round-the-clock access to safe drinking water and other water services should not be taken for granted. Nearly a billion people around the world lack safe water, 2.5 billion people live without basic sanitation and 80 per cent of the world's wastewater remains beyond any treatment. Every year, contaminated water kills at least 1.8 million children under the age of five. Due to rapid population growth and water scarcity aggravated by climate change, community water supply and wastewater services will globally face major challenges in the decades to come.
According to Katko, the major challenges facing water services in Finland and internationally are ageing water infrastructure and deteriorating distribution networks. Katko stresses the need to create common rules and regulations for water service management and calls for research funding bodies to step up to the challenge. Katko's book highlights institutional and governance perspectives too often overshadowed by focusing merely on the development of new technologies.
The World Water Development Report 2015 states that "the fact is there is enough water available to meet the world's growing needs, but not without dramatically changing the way water is used, managed and shared. The global water crisis is one of governance."
In Finland, water services are produced mainly by municipally owned public water and wastewater utilities. An interesting feature in international comparison is that the water utilities and sewerage plants mainly operate within a single organisation. Overall, Katko's book provides an argumentative contribution to discussions in the water field while maintaining a professional and hopeful tone throughout. Challenges can be solved, but more than anything else, it requires a political and professional will. The book is a passionate statement for water services as the basis for a sustainable and well-functioning society.
Moreover, knowledge of and expertise in water services have potential to become an important export and education area for Finland in the future. Finland has accumulated solid expertise in neighbourhood collaboration and Finnish know-how has yielded great results in many developing countries. Katko encourages Finnish professionals to take a more active role in developing water services on a global scale. Therefore, this book is a good start.
Text: Oona Riitala
Tapio S. Katko: Finnish Water Services – Experiences in Global Perspective. Finnish Water Utilities Association (FIWA), 2016. www.finnishwaterservices.fi
The preparation and publishing of the book has been supported by the Academy of Finland among other bodies.
Last modified 31 Aug 2017