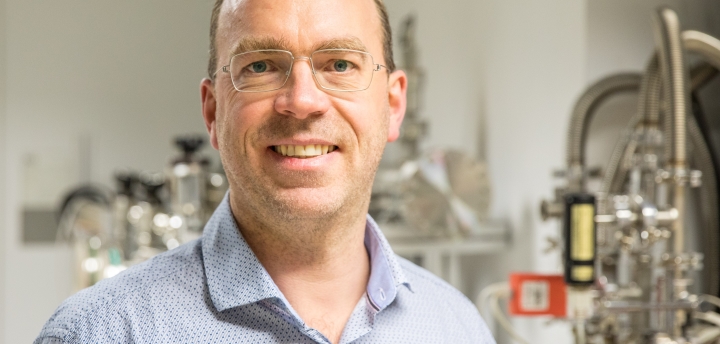 Robin Ras: ERC funding helps researchers to stay at the forefront of research
10 May 2017
Professor Robin Ras, who has secured funding from the European Research Council (ERC), encourages Finnish researchers to be bold and have faith in their work. The Academy of Finland organises interview training for researchers who have made it to the second round of the ERC's Starting Grant and Consolidator Grant calls.
Professor Robin Ras from Aalto University was successful in the ERC's Consolidator Grant call in 2016. The Consolidator Grants are intended for independent top-level researchers. Ras works at the Academy of Finland's Centre of Excellence in Molecular Engineering of Biosynthetic Hybrid Materials Research (HYBER).
Ras conducts research into superhydrophobic surfaces. These surfaces repel water so much that they will not get wet even when soaked in water. This phenomenon is explained by the low friction of the droplets. According to Ras, there is a great deal of application potential in these surfaces, from self-cleaning windows to anti-icing, anti-fogging and many other uses. The greatest challenge lies in the fragility of the required micro- and nanostructures. In his ERC-funded project, Ras will develop novel synthesis methods for superhydrophobic surfaces and new methods to investigate droplet friction and adhesion. He will also explore their properties to reduce icing and biofouling.
Ras sees the ERC grant as recognition of his previous work and hopes that it will allow him to stay at the forefront of superhydrophobic research. He intends to use the grant of 2 million euros over the next five years to further strengthen his work on superhydrophobic surfaces. "Not only will I hire several students and postdocs, I'll also use the funding to purchase equipment to synthesise these surfaces," he says.
Ras completed his PhD in 2003 at the University of Leuven in Belgium, and moved to Finland the next year after being hired to the team of professor Olli Ikkala as a postdoctoral researcher. He continued as a teaching researcher until 2011 when he received funding from the Academy of Finland for a research post as Academy Research Fellow. In 2013, he was selected as Assistant Professor at the Department of Applied Physics at Aalto University.
Academy of Finland assists in the application process
Applying for ERC funding can be a challenging and daunting process. Ras describes the drafting of an ERC proposal as a learning process where seeking help from others is crucial. He succeeded on the third try, after rejections in 2013 and 2014. He received excellent support from Aalto University's grant writer Krisztina Cziner, who helped Ras with administrative issues so that he could focus on the scientific part of the proposal.
After being approved for the second call round, he was invited to an interview in Brussels. The Academy of Finland organised a national training session for the invited candidates. At the session, each applicant presented their project and a specialist from Yellow Research, a Dutch consultancy company, provided comments to help the applicants improve their presentations. Ras says that it was very useful to discuss his proposal with his group members and colleagues from his department, and to hear what ERC grant holders had to say.
"Compared to other EU countries, Finland hasn't been very successful in obtaining ERC grants. In my opinion, however, that doesn't really reflect the quality of Finnish research. I think that it's more a case of Finns perhaps being too modest; Finnish researchers seem to regard their own research idea as unsuitable for the ERC. My advice to Finnish researchers is; Dare to be bold! And take plenty of time to prepare yourself," Ras says.
When Ras first applied for ERC funding he spent six weeks on drafting the proposal. During those six weeks, he spent most of the time working from home so that he could work on his proposal coherently. Occasionally, he would go to the lab to discuss the draft proposal with his colleagues to receive feedback. Given the responsibilities a researcher has, spending that amount of time writing a funding proposal might seem long, but Ras says it was time well spent. "It allowed me to create new ideas, and even if the ERC wouldn't have granted the funding, I could have recycled the proposal for other funding proposals, such as for the Academy of Finland, Horizon 2020 or other funding instruments."
The European Research Council (ERC) celebrates its ten-year journey this year. The ERC provides funding for excellent research in all sciences. It funds young, early-career top researchers (ERC Starting Grants), already independent excellent scientists (ERC Consolidator Grants) and senior research leaders (ERC Advanced Grants). ERC grantees have won several prestigious prizes, including six Nobel Prizes.
Text: Arto Suominen
Photo: Mikko Raskinen
Last modified 10 May 2017