Games to teach financial literacy
5 Oct 2017
Ever easier access to credit and payday loans has resulted in more and more people getting into trouble with their personal finances. Professor of Economics Panu Kalmi and Professor of Communications Tanja Sihvonen have secured key project funding from the Academy of Finland in order to research instructional games designed to improve the financial literacy of upper secondary pupils.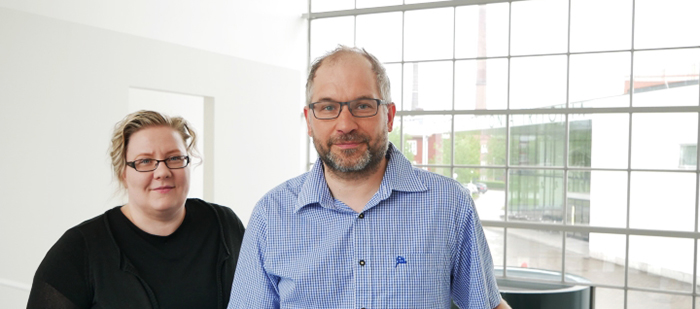 Professor of Communications Tanja Sihvonen and Professor of Economics Panu Kalmi.
The research follows up on an earlier four-year Academy project by Panu Kalmi and Olli-Pekka Ruuskanen that explored the relationship between financial literacy and individual financial behaviour.
Tools for better management of personal finances
Tanja Sihvonen says that financial management has much in common with gaming. "Games have many features that can be thought of in financial terms. A simple example is a game whose logic requires earning or collecting money, or obtaining resources. This entails economic activity, which teaches gamers how to earn and collect, how much time, energy and effort goes into earning, how much gamers will benefit in return, and what they can do with what they've collected. This is the whole premise of many games," Tanja says.
The research is focused on three games: Me & MyCity, Oma Onni and Money Flow Challenge.
They're all different, but all share the same goal of teaching financial management skills. Me & MyCity is a network of learning environments located around the country: school classes visit one of the miniature cities for a day to compete on a team basis in financial management skills. Oma Onni is a learning environment involving various small built-in games, and Money Flow Challenge is a free-download mobile game developed by Planago.
Panu Kalmi says the purpose of their research is to promote the use of game-based learning methods in school education.
The effectiveness of the instructional games will be measured by before and after questionnaires conducted during the next school term. The questionnaire items concern such aspects of personal finances as saving, financial planning and shopping behaviour. Kalmi says the young age of the participants in the research presents a special challenge, as youths of this age do not yet make very big financial decisions.
In his earlier studies Kalmi has found evidence of improved financial literacy in game-based learning environments as compared to traditional education methods. However the impact on behaviour has not been very significant. In the future Kalmi and his team plan to follow long-term changes by recording personal data on their subjects and repeating the questionnaire in a few years' time.
Improved teaching methods through cooperation
The second part of the research project involves a usability evaluation, which will be conducted in close collaboration with the Vaasa-based Design Centre Muova. Muova's role will be to focus on the games' usability, design and development potential. Other project partners include the Association for Teachers of History and Social Studies in Finland (HYOL), various foundations, the youth financial management network and the Finnish National Agency for Education.
Kalmi is confident that the cooperation will be successful: all the partners know each other well and are excited about the prospects of contributing to the development effort.
Ultimately the aim is to give financial literacy a more prominent position in the history and social studies curriculum. "The research results will mainly benefit teachers whose job it is to teach basic financial knowledge and skills to young people. More and more people today are having problems with their personal finances, which are only compounded by easy access to credit and payday loans. Large numbers are accumulating debt beyond their means and failing to manage their personal finances. This is what we're trying to address through an instructional approach," Tanja Sihvonen explains.
Sihvonen says it is a definite advantage that the research involves three different types of games at different stages of development: "We're in the fortunate situation that all of them are good, functional games that we can test and monitor. At the same time all of them have scope for further development, and all the parties involved are keen to make that development happen. This would not be possible if we didn't have existing games available to test. No one would invest in developing a better game based on our theoretical conclusions."
The key project funding scheme Forging Ahead with Research receives high praise from the researchers: "These kinds of projects that promote collaboration with the surrounding society are well justified," Kalmi says.
"You don't really see very much research along these lines; this is quite unique. People in Finland seem to be secure in their mind that we have an excellent comprehensive school system and that there's no need to change it. They don't necessarily recognize the long-term problems that may arise from failing to look ahead and prepare," Sihvonen points out.
"Our project provides an example of how we can intervene to influence the behaviour of children and young people and ultimately change their financial behaviour in adulthood. This is research that delivers a genuine social impact," Tanja concludes.
Text: Arto Suominen
Photos: Me & MyCity and Arto Suominen
The Academy's key project funding scheme "Forging ahead with Research" is aimed at generating greater impact from research through a targeted call. Under the scheme funding is made available primarily to early-career researchers, giving them the opportunity to conduct top-level research and to put their results to good use.
The aim of Academy key project funding is to promote active collaboration between the research field (universities and research institutes) on the one hand, and end-users of research (business and industry), on the other. Projects funded will promote the more effective use of research results through various experiments and pilots. The Academy of Finland awarded a total of 30 million euros to 101 projects.
Last modified 5 Oct 2017