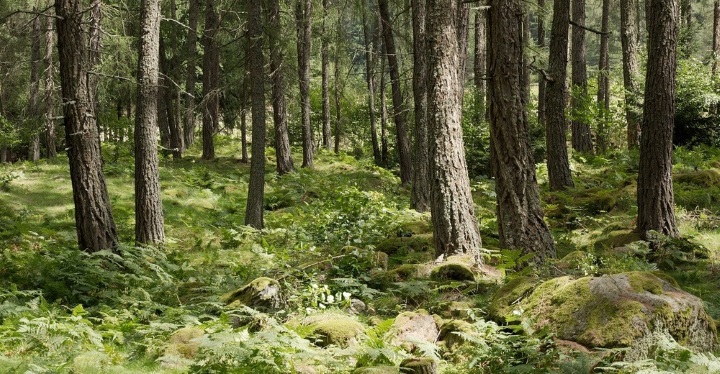 Combating climate change through research
20 Jun 2017
Why do we need to study climate change? Academy Research Fellows in the biosciences and environmental sciences, who are researching the topic from several angles with funding from the Academy of Finland, try to answer this question. In the researchers' view, not all hope of slowing down change is lost, if only people would pay attention to research results.
Mari Pihlatie of the University of Helsinki is researching seasonal variations in methane emissions from trees, and the production and transfer of methane in a northern, boreal coniferous forest. She emphasises that the carbon sink provided by trees, which has increased due to climate change, is helping to slow down climate change.
"To involve the forests and mires of Finland to the utmost in mitigating climate change, long-term carbon stocks need to grow. In other words, methods must be developed to make bound carbon remain in the tree, soil and mire biomass for as long as possible. More long-term solutions must be found for tree use and the use of wood as raw material in energy production must be reduced. Timber construction is one way of binding atmospheric carbon in long-term stocks, while saving other natural resources," Pihlatie explains.
She considers it important to study how Finland's forests and mires react to climate change and how the various options for using forests and mires affect the carbon cycle and the exchange of greenhouse gases. As a researcher, she feels it is her responsibility to investigate how best to increase the carbon stocks of forests and mires, thereby minimising greenhouse gas emissions.
Diversity at risk
Anne Kasurinen from the University of Eastern Finland is exploring the effects of global warming and nitrogen fallout on pine trees. She points out that the higher forest productivity often referred to is short-term only, since this takes no account of the impacts of warmer winters or higher risk of pests. She also warns of diversity loss as invasive species spread further north. In addition, she considers the increase in peat bogs to be a questionable issue in terms of the carbon cycle and points out that peat is not an environmentally friendly form of bioenergy.
In Kasurinen's view, population growth is a global problem: "If we fail to control population growth while reducing greenhouse gas emissions, the prospects are truly bleak in global terms. For example, droughts will increase in highly populated areas, where food production is already teetering on the brink of disaster."
Kasurinen also points out that climate researchers are being maligned for producing 'fake news'. "Information is available, yes, but if policymakers are irresponsible populists who only care about television coverage and doubt or simply ignore scientists, disaster lies ahead."
Bacterial diseases may become a problem
In his research, Tarmo Ketola from the University of Jyväskylä is testing whether certain species can adapt to changes such as those resulting from climate change. However, at this stage of the study, it is difficult to predict the future impacts on climate.
"Longer growing seasons and higher virulence, which has increased alongside high temperature tolerance, or pathogenicity, may lead to more problems due to bacterial diseases. Unfortunately, very little is known about the issue at this stage. The adaptation of bacteria and diseases and their increasing occurrence due to the greenhouse effect are causes of concern in economic and public health terms."
Ketola believes that new, contagious diseases adapted to changed conditions could cause major problems for agriculture, forestry and aquaculture. Forests may also suffer when diseases mutate faster than tree species can adapt, and spread quickly.
Heidi Hellén of the Finnish Meteorological Institute works to define unknown reactivity in the air in boreal and Arctic environments. It means investigating how many atmospheric compounds are currently understood. These are caused by vegetation such as the compounds from forests and mires, as well as by human activity.
"Reactive compounds in the atmosphere are involved in the formation and growth of particles and cloud droplets. The climate impacts of particles formed by natural emissions in particular are highly uncertain. There'll be less uncertainty when more is known about compounds and mechanisms affecting the formation of particles," Hellén says, explaining the impacts of her research on climate change.
Forest damage and economic losses threaten to multiply
Satu Ramula of the University of Turku is studying the ways in which populations react to variation in the environment. Such variation is expected to proliferate due to climate change, the fragmentation of habitats and invasive species. Higher environmental variation is often harmful to living organisms, although some species can also benefit from it. Ramula is studying the strategies that various groups of organisms and species use when reacting to environmental variations. The results can be used to predict the ability of various groups of species to adapt to the changes occurring in their habitats. This information is important to preserving the original diversity of species and preventing invasive species.
"In Finland, climate change means higher average temperatures and precipitation, and more frequent extreme weather events such as storms and heavy rainfall. These conditions will facilitate the spread into our forests of new insect pests and plant diseases, while some occasionally encountered pests become more common. Forest damage and financial loss is likely to increase," Ramula says.
"Not all hope is lost, certainly, since climate change can be markedly decelerated through international agreements on emissions. It goes without saying that people's everyday choices make a difference, including the recycling of waste and favouring public transport," she adds.
Finns are aware of the risks involved in the changes
Kajar Köster from the University of Helsinki studies climate change from the perspective of forest fires. They are one of the key natural disturbances in boreal forests.
"Fire influences the carbon and nitrogen stocks in the soil; the frequency of forest fires in boreal forests can be expected to increase because of climate change, thereby reducing the carbon stocks of forests," Köster explains. His project examines the impacts of forest fires on the amount of organic matter in the soil and the carbon and nitrogen balances of forest soils. Conducted in Canada, Russia, Finland and Estonia, the research is aimed at determining how much and how rapidly carbon accumulates in vegetation and the soil, while comparing the results of process models of boreal carbon and nitrogen cycles to measurement results collected from natural forests.
Köster points out that the soil in boreal forests contains 66 per cent of the world's carbon stocks. Boreal forests are an important carbon sink, as they prevent global warming. Even the slightest changes in them have a major impact on the greenhouse gas balance in the atmosphere.
Climate change affects both animals and plants on a global scale. For example, warm winters affect animals hibernating in winter and species that grow winter coats. Unstable weather conditions disturb nesting by migratory birds. "If the climate changes too rapidly, animals are unable to adapt and the diversity of species will suffer."
Personally, Köster sees climate change as part of the Earth's life-cycle. "People and the natural environment as we know it will suffer most from the changes. People must therefore do their utmost to slow down climate change. It's clear that people in Finland are aware of the direct and indirect effects of their actions. The number of people seeking to reduce their carbon footprint is growing steadily and this will hopefully continue."
Original text in Finnish by Leena Vähäkylä
Photo by Pond5
Last modified 20 Jun 2017