Climate change is a health threat
8 May 2017
"Drought, heat, floods, storms and climate migration are climate change phenomena which have a worldwide effect on people's health, says Professor Jouni Jaakkola of the University of Oulu.
"Climate change is the greatest health threat of this century. There can be no doubt of that."
Jaakkola leads the Center for Environmental and Respiratory Health Research (CERH), a multidisciplinary research and teaching unit in the Faculty of Medicine at the University of Oulu. The CERH is also a WHO cooperation centre in relation to global change, the environment and public health.
"We have around thirty staff, some of whom are foreign researchers from various parts of the world."
In one room, a Nigerian doctoral student is studying how cooking on an open fire affects the health of women and children in developing countries. In another, the impact of air pollution on still births is being analysed. In the cold laboratory, experimental research is underway on how exposure to the winter cold affects blood pressure and cardiac functions. The aim is to explore how freezing weather affects the health of patients suffering from coronary diseases.
"In sum, we're studying the effects on human health of environmental factors associated with climate change, such as extreme temperatures, air pollution, water quality and habitat and lifestyle. Based on individual research questions, we're building an overall picture of the connections between climate change and health. Our goal is to identify the ways of combating climate change that make most sense from the health and wellbeing perspective, and how best to adapt when prevention is impossible."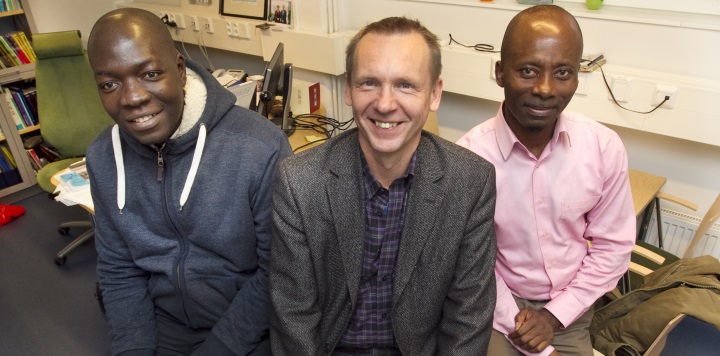 Kofi Amegah (left), who is finishing a doctoral dissertation at the University of Oulu, investigated the effects of domestic heating and cooking emissions on foetal weight in Ghana. Also in the picture are Professor Jouni Jaakkola from the University of Oulu Centre for Environmental and Respiratory Health Research (CERH) and Ghanaian researcher Reginald Quansah.
Finland is not an island
Although climate change will have the severest effects on developing countries, Finland will not be immune to its health impacts. In a century or so, almost all of Finland will form part of a different climate zone to now.
"In a developed country like Finland, we can prepare for a number of threats, such as a higher frequency of storms and floods. But surprises are also bound to occur," Jaakkola predicts.
Precipitation is forecast to increase, particularly in winter. Temperatures fluctuating above and below zero will increase the slipperiness of roads and the number of accidents.
Cold periods are likely to become less frequent and shorter, which will reduce mortality rates caused by outdoor temperatures. "During hard frosts, there is a 10 per cent or so rise in deaths due to pulmonary and coronary diseases, which are likely to fall," Jaakkola says. "On the other hand, hotter and longer heatwaves will lead to higher death rates during the summer."
As the climate becomes warmer in the north, the light conditions will probably deteriorate. Increased cloud cover in the autumn and winter will afflict sufferers of seasonal affective disorder. Continuous sleet will make people more prone to depression and 'the blues'.
The shift in climate and vegetation zones will expose Finland to the pollen of new plant species. For example, the pollen of the common ragweed (Ambrosia artemisiifolia) spreads hundreds of kilometres from the plant's distribution areas. This could spell trouble for those suffering from allergies and asthma.
"In collaboration with researchers from the University of Oulu's Department of Geography and the Finnish Meteorological Institute, we're engaged in the APTA project (The Influence of Air Pollution, Pollen and Ambient Temperature on Asthma and Allergies in a Changing Climate) funded by the Academy of Finland. The project involves modelling life-long exposure to extreme temperatures, air pollution and pollens, and how such exposure affects the onset of asthma and allergies and mortality," Jaakkola says.
Modelling based on geographical and regional data is useful in a range of studies of local health.
The continued northward spread of ticks is causing concern. Ticks spread the Borrelia bacteria, which causes Lyme disease, and the virus that causes tick-borne encephalitis. The spread of ticks is thought be a consequence of climate change. In addition, the more dangerous relative of Finnish ticks, the taiga tick, is spreading to Finland from the east.
The Sami in a changing climate
Professor Jaakkola also leads the Saamen kansan tulevaisuus muuttuvassa ilmastossa (Sami People in a Changing Climate) project, in response to concerns raised by the Sami. Dr Klemetti Näkkäläjärvi of the University of Lapland, a cultural anthropologist and long-serving President of the Finnish Sámi Parliament, is involved.
"On a multidisciplinary basis, we're studying how climate change is affecting the Sami culture, wellbeing and health. When an entire way of life is under threat, climate change can be regarded as having an impact on both mental and physical health."
It is predicted that the climate of northern Lapland will resemble the current climate of southern Finland in under a century.
Climate change will affect issues such as the duration of the snow cover, vegetation and the carrying capacity of ice. This could hamper reindeer husbandry: temperatures hovering around zero will produce a hard crust on the snow, which will prevent reindeer from digging for lichen, their source of nutrition.
When the ice cover takes longer to appear, the herding of reindeer for division between owners will be hampered by the need to circumvent water bodies. The risk of accidents will also grow due to the unpredictable nature of the ice cover.
Climate change will also affect tourism, which is an extremely important livelihood for the Sami. Snowy winters are vital to winter tourism in Lapland.
"At the end of this three-year project, we aim to have a basis for monitoring climate change phenomena for decades to come. The databank can be used for adjusting to climate change and in planning and decision-making related to the Sami region," Jaakkola says.
From forecasting to adaptation
Research done at the CERH is creating the basis for activities related to forecasting and adapting to the effects of climate change.
"Our research unit is part of the Multi-Country, Multi-City (MCC) network, which evaluates the weather's health effects based on data from around a hundred cities around the world," Jaakkola says. "Another aim is to evaluate the health impacts of extreme temperatures this century, based on scenarios created by the Intergovernmental Panel on Climate Change."
A mobile application is being developed in collaboration with Greek researchers to evaluate individual health risks associated with hot weather. It can be used to warn and guide risk groups on issues such as how to act on an extremely hot day.
"Finland already has systems in place for warning about slippery roads, for example. These new, individual applications are a step towards adaptation."
Combating climate change will have a range of positive effects on public health.
"With greater public awareness, people will walk or cycle instead of driving and thereby reduce air pollution, while getting valuable, regular exercise. Eating less meat for environmental reasons will also benefit everyone's health, if they replace meat with a vegetable-rich diet."
"The new findings provided by our research will help us reduce the health threats posed by climate change. They can also be used to find cost-efficient ways of coping with the negative and, in some cases, positive health-affecting changes in our surrounding environment," Jaakkola says.
Original text in Finnish by Satu Räsänen
Photos by Kaleva/Jarmo Kontiainen
Last modified 8 May 2017