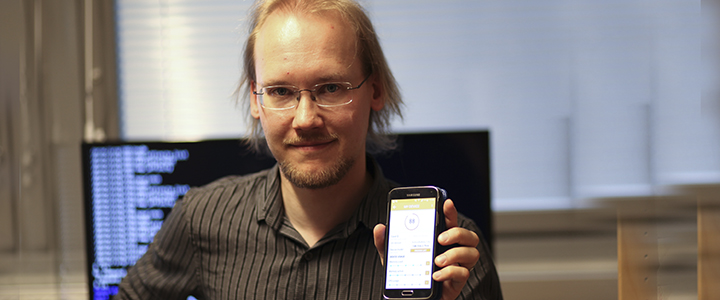 Mobile cloud computing makes data centres obsolete
3 Oct 2016
Researcher Eemil Lagerspetz intends to move computing from computers to pocket devices and from data centres to homes.
Implementing cloud computing with mobile devices is being studied at the University of Helsinki. Mobile cloud computing refers to computing with smartphones or other mobile or Internet of Things devices in the environment, such as smart TVs or smart fridges. Without mobile devices, cloud computing means carrying out large tasks on computers linked together by network connections. In traditional computing, the tasks are carried out with computers that are physically located in the same space.
In the future, mobile cloud computing could be carried out at workplaces, homes and universities, among other places. For example, a smartphone connected to a wireless network during the night or the working day could be used as a part of mobile cloud computing.
"This would make it possible to use distributed computing power in the form of phones. At the same time, smartphones could do something useful even when they're not actually being used," Lagerspetz says.
In the research funded by the Academy of Finland, a computing platform is being developed for users to download as an application on their smartphone.
"Everybody could participate in computing, and also in doing science, by installing the application on their smartphone," Lagerspetz says.
Nevertheless, mobile cloud computing has its issues. Mobile devices located in the same space can carry out their shared computing task effectively. But when the devices move away from the shared space with their owners, problems occur.
"At the workplace, the computing results would have to be stored somewhere after the end of the meeting, so that if the computing was still going on, it could continue later somewhere else," Lagerspetz says.
The surprising energy efficiency of smartphones
Mobile devices are approximately ten times more energy-efficient than regular desktop or server computers. A large number of smartphones can provide the same computing power as a traditional server, but they consume considerably less energy. Even with less than ten smartphones, computing can be done relatively quickly.
"We already knew that mobile devices only use a small amount of energy, which means that they are very energy-efficient. What's surprising is that their computing power is not too far behind the power of servers," Lagerspetz says.
For example, a smart TV that is on while computing only consumes one or two watts more energy compared to simply being on standby without computing.
"We could also reduce the carbon footprint by moving on to more energy-efficient computing with mobile and IoT devices," Lagerspetz says.
Computing goes into the environment with people
When successful, mobile cloud computing will move computing with the mobile and IoT devices to places where there are people. In the future, the devices could be used to compute things such as weather forecasts, tornadoes or earthquakes.
"In the future, light computing tasks could be carried out using smartphones and IoT devices. Large, energy-inefficient computers might even become obsolete," Lagerspetz says.
Small mobile and IoT devices could also establish their own wireless network. In it, the devices could choose the best wireless network connection among themselves and use it to connect with the organisation that assigns the computing task.
The computing results could be achieved even more quickly, and the network connections would not get clogged as easily as now. Among other things, location data could come from computing by the IoT devices in the vicinity.
"We could bring computing to the grassroots level, where the phones and people are," says Lagerspetz.
Finnish text and images by Niina Kellinsalmi
Last modified 3 Oct 2016