Can programmable materials pave the way for future innovations?
24 Nov 2015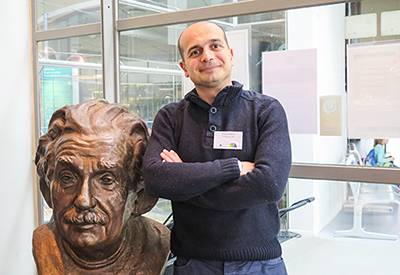 Programmable materials is an emerging field of research that, for the uninitiated at least, may be a little hard to understand. Scientists could help by spending more time on popularising their research results, for example in the field of chemistry, says Vincenzo Palermo, professor of chemistry and physics at the Institute of Organic Synthesis and Photoreactivity (ISOF) in Italy. Palermo spoke recently at a seminar organised by the Academy of Finland around the Programmable Materials (OMA) Academy Programme. Research into materials with programmable properties, Palermo said, can provide concrete advantages when tackling future challenges such as energy storage.
"The results of programmable materials research can be put to good use, for instance, in the energy and pharmaceutical industries. These are industries that affect almost every part of our lives. People sometimes associate chemistry with negative ideas of toxins, for example, even though chemistry is the source of so many solutions that make our lives better. This shows why it's crucial that researchers clearly communicate the practical uses of their research," said Palermo.
Popular science appeals to children and young people too
Vincenzo Palermo's own research is focused on graphene, one of several forms of carbon. He combines graphene with organic colourants and semiconducting polymers with the purpose of developing components for the electronics industry. Graphene can be used to produce energy storage applications, composites and catalysts as well as to improve the mechanical strength of biopolymers. The use of 2D materials such as graphene, instead of linear polymers, can have several advantages for charge transport, gas permeation, sensing, etc.
Palermo is a keen advocate of science popularisation, especially when it comes to difficult topics and the younger generation. For instance, he has presented his own graphene research at a number of science fairs and events using posters and videos. He has seen first-hand how his efforts have increased the exposure of his research.
During the seminar, Palermo also brought up an Italian example of science popularisation. He talked about events that are reminiscent of the Academy of Finland's Science Breaks, where researchers visit schools to talk about a specific scientific topic.
"The events we have in Italy are about engaging students – letting them get hands-on with the research. Some students had, for instance, reconstructed the Chernobyl nuclear accident using only Lego blocks," Palermo explained.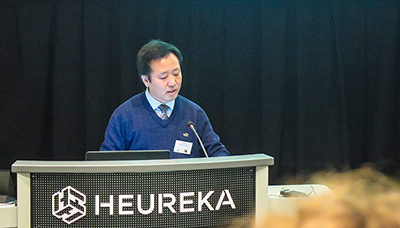 Photo: Junqiu Liu, professor of polymer chemistry and physics at Jilin University, China, presented his research on smart enzyme design at nanoscale. He also talked about the spiral structures of natural macromolecules, which he had successfully mimicked in laboratory settings.
Materials science is an important field for the future
The research conducted within the Programmable Materials (OMA) Academy Programme supports many fields of industry by facilitating the development of novel technologies through applications that may have commercial potential. The OMA programme explores components that have an ability to react in pre-programmed and desired ways to environmental conditions and external stimuli. The results of the research can be used, for instance, in optical and electronical applications and health technology, and to improve medical treatments.
One of the projects funded under the OMA programme is called Light Triggered Nanoparticles (LITRE). The project was presented during the OMA seminar. The researchers in the project are trying to develop a light-activated drug delivery system for the human eye. The retina is a difficult target for drug therapy. The developed method will make drug delivery to the eye easier by allowing for controlled drug delivery to the back of the eye. The method also increases the duration of action when compared to traditional therapies such as intravitreal injection.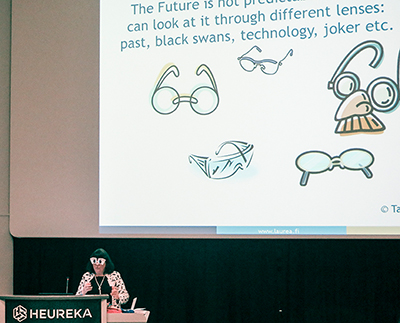 One of the speakers at the OMA seminar was futurist Tarja Meristö, who said that material engineering is a field of technology that will play an integral role in shaping the future. Meristö mentioned nanomaterials as an example of this development. Futures research, she said, must always look at least ten years ahead.
"New perspectives and imaginative approaches pave the way for the innovations of the future. You can't start something new until you stop something old. When predicting the future, we must consider what's possible, what's probable and what's preferable," said Meristö.
Finnish text and photos: Anna-Riikka Oravakangas
Last modified 24 Nov 2015